NeuraLaserColor II – High Speed Color Well Log Printer/Plotter
NeuraLaserColor II is the fastest color laser log printer/plotter in the industry. Specifically designed for printing well logs, the NeuraLaserColor II uses enhanced imaging technology to print accurately at speeds of 11 inches per second. NeuraView software completes this solution to give you everything you need to print well logs in industry standard formats. This versatile printer/plotter has native Adobe PDF support, as well as standard cut sheet printing support for well reports and other office documents.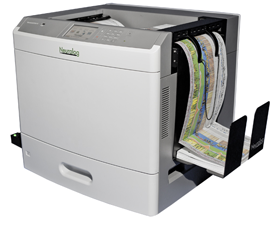 NeuraLaserColor II well log printer/plotter makes printing well logs quick and easy. Its ergonomic design includes a user-friendly touch-screen operator panel with audible feedback and easy to access consumables. Automated paper handling streamlines the well log printing process, requiring minimal user assistance. On-the-fly length calibration and pantone color calibration ensure that you get the highest quality prints every time.
Features of the NeuraLaserColor II printer/plotter include:
Fastest color laser log print speeds – 11 inches per second
Highest quality prints of any well log printer/plotter
Ease of use with automatic media handling
Exclusive on-the-fly length calibration
Integration with industry well log applications, including Native Adobe PDF support
Energy Star rated printer/plotter
40% cheaper to operate than NeuraLaserColor I
Well log paper is inserted into the printer's Continuous Form Attachment and is gently pulled into the printer and straightened as it is loaded. NeuraLaserColor II automatically handles all paper loading for subsequent prints with no user assistance needed, even when the paper is cut between the logs. NeuraLaserColor II uses continuous-length bright white 24# paper and extra high yield print cartridges available from Neuralog. This custom paper has a durability, smoothness and preciseness that are ideal for high speed continuous printing. Laser printing supplies are very affordable, lowering the overall Total Cost of Ownership (TCO) for this printer.
The high-speed print engine, engineered especially for handling long continuous documents, allows NeuraLaserColor II log plotter to print logs quickly and reliably. Logs can be sent directly from your PC over a standard network interface. The custom print driver allows you to print any length log in color, grey or black and white, and multiple log copies can be printed in a single batch from your PC.  LAS, TIFF or your custom format logs can be printed from the included NeuraView software or any capable Windows application. Contact Neuralog for a list of recommended well log applications.
NEURALASERCOLOR

II

SPECIFICATIONS*
 
Well Logs
Cut Sheet
Color and B&W Speed
Up to 11 ips
Up To 50 ppm
Media Size
8.5″ width x Unlimited
Letter, Legal, A4
Media Capacity
Continuous Form Attachment – Unlimited
550 Sheet Tray
Paper
Neuralog High Quality Log Paper**
Any standard document paper
Max Print Resolution
Up to 2400 dpi
Up to 2400 dpi
Interfaces
Network Ethernet
Network Ethernet, USB
Toner and Consumables

20,000-page (CMYK) Extra High Yield All-in-one Print Cartridges
150,000-page Fuser, 200,000-page Image Transfer Unit
Recycle Program for Print Cartridges

Toner Control
Custom settings available to control toner usage
Processor/Memory
1.2GHz  1.5 GB on board RAM
Size (inches)
Weight (pounds)
Print Engine
20.3W x 22.3H x 20.2D
110 lbs
Continuous Form Attachment
12W x 2H x 5D, 4 lbs
Stacker
6.5W x 13H x 10D, 1 lb
Electrical
Specify 110V or 220V
*Specifications subject to change.
**Neuralog's paper has undergone rigorous testing in our engineering facility. We recommend its use for all well log printing.
NeuraLaserII Printer Consumables
Full Scale Well Log Paper for NZC2

NeuraLaserColor 2 Black Print Cartridge 24B6160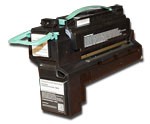 NeuraLaserColor 2 Cyan Print Cartridge 24B6157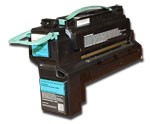 NeuraLaserColor 2 Magenta Print Cartridge 24B6158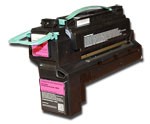 NeuraLaserColor 2 Yellow Print Cartridge 24B6159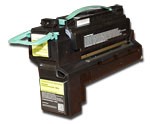 NeuraLaserColor 2 Internal Transfer Unit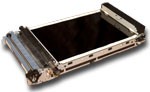 NeuraLaserColor 2 Fuser – 115V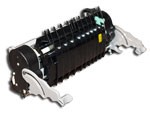 NeuraLaserColor 2 Fuser – 220V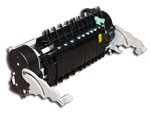 NeuraLaserColor 2 Toner Waste Container

Let AZDO take care of your well log and digitizing needs
Neuralog software, hardware, consumables, local and remote training and support!
Get in touch